Social and hUman ceNtered XR
–
Where physical and virtual worlds meet
What is SUN?
–
The Social and hUman ceNtered XR (SUN) project aims at investigating and developing extended reality (XR) solutions that integrate the physical and the virtual world in a convincing way, from a human and social perspective. The virtual world will be a means to augment the physical world with new opportunities for social and human interaction.
Your content goes here. Edit or remove this text inline or in the module Content settings. You can also style every aspect of this content in the module Design settings and even apply custom CSS to this text in the module Advanced settings.

Scalable and cost-effective
Use AI to incrementally learn and acquire from the physical world
Learned items will be maintained in the sun platform and made reusable
Convincing mixing of physical and virtual world
Objects in the physical world will have digital twins with physical and semantic properties
AI to give virtual objects the same behaviour than the physical ones
Plausible human interaction
Wearable haptic interfaces
Multisensory feedback with 3D objects
Gaze and gestures based interaction via AI and computer vision
Surpass device resource constraints
AI and generative solutions to provide high-quality rendering also in presence of coarse-gained, low resolution and missing parts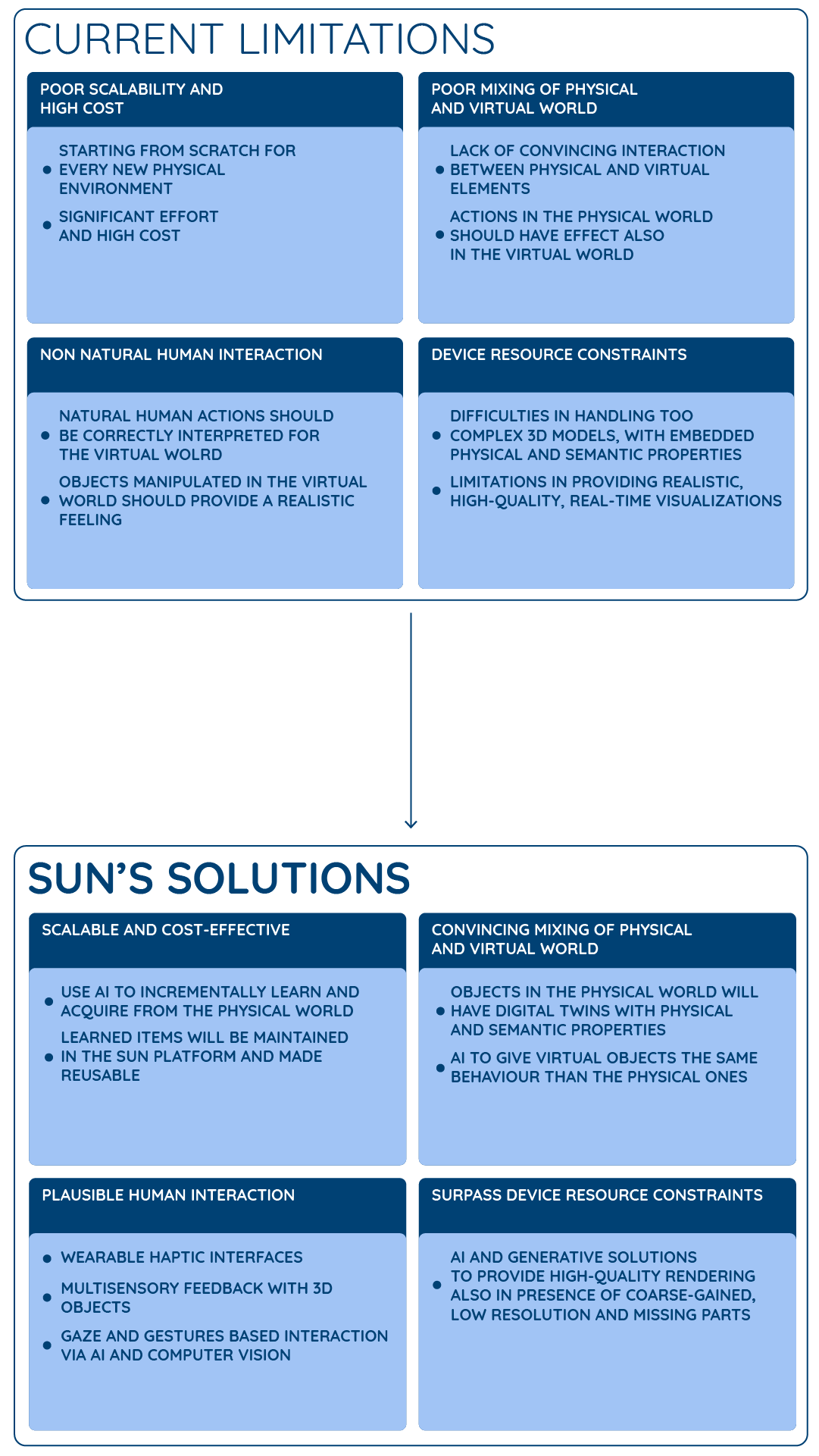 Solutions piloting
–
The solutions will be demonstrated in three real-life scenarios, focusing on social interaction and collaboration:
SUN Objectives →
–
Explore how SUN intends to study the interactions between the physical and the virtual world. Check out our six main objectives
SUN Pilots
–
The SUN project will assess the developed technologies in these three pilots:

eXtended reality for Rehabilitation ↘
–
The aim of the proposed rehabilitation scenario is to motivate the patient to exercise efficiently by providing feedback in relation to performance, while the physiotherapy exercises are performed in any setting, e.g. clinical, at home, indoors, outdoors or even in public areas. This scenario is based on the use of a digital tool employing VR,AR, and MR to assist and monitor the individual motor learning in the context of a supervised personalized remote exercise rehabilitation program for the management of injuries/pathologies. The digital tool will also enable supervised personal training
eXtended reality for
safety and social interaction at work ↘
–
AR and VR can create more immersive experiences for people at work in order to make their job safer, by providing new ways to be aware of possible hazards and receive more effective, engaging and entertaining training on safety procedures. This is to alert and prevent serious accidents provoked by the co-occurrences of different causes, which can be avoided by conscious collaboration. With VR/AR headsets, workers will be able, for example, to better understand difficult-to-grasp concepts or topics such as protocols and procedures for safety and security.
eXtended reality for people with serious mobility and verbal communication diseases ↘
–
Some people with various motor disabilities or after strokes have huge difficulties in communicating with each other and even to address their vital needs. The project will join the challenge to find a dedicated communication pathway for those people introducing the possibility to interact with some specific social cues and transform them in clear communication or actions.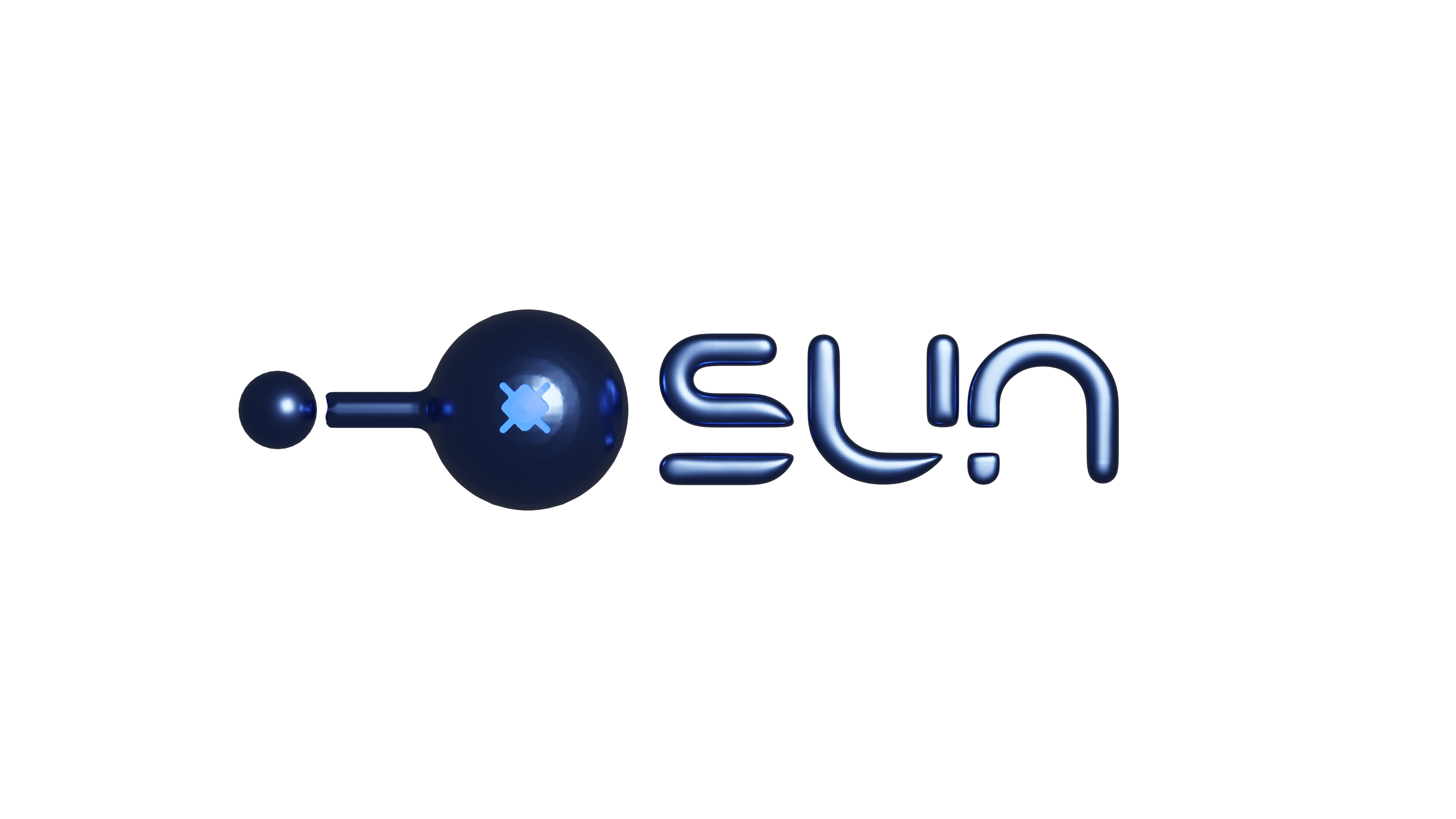 "The project will contribute to human-centred and ethical development of digital and industrial technologies, through a two-way engagement in the development of technologies, empowering end-users and workers, and supporting social innovation, including end-users from the very beginning through the co-creation of scenarios, and later on gathering their feedback through the pilots demonstrating new uses of XR in the field of industry (ameliorating safety and capability of workers), rehabilitation, and inclusive communication"
Subscribe to SUN XR's newsletter and keep yourself updated to our latest news.
Contacts
–
Project Coordinator: Institute of Information Science and Technologies – National Research Council CNR (IT)
Giuseppe Amato
Email: